Frequently asked questions
General
What is Love Treasures?
---
Love Treasures gifting legacy is:
A kingdom-driven Christian ministry committed designing elegant gifts for you to honor and uplift others
Valued for signature experiences we give the recipient

and

the giver

An alcohol-free brand.
Based in Charlotte, North Carolina
Read more about us. Check out our vendors.
---
When do I use Love Treasures?
---
When you want to- -Honor and uplift a special lady in your life -Be there, and show someone you care or appreciate them -Treat yourself (You are worthy!)
-Nurture or strengthen your relationships
-Impress her with your thoughtfulness
-Celebrate a special occasion or holiday with a personalized gift
-Receive high praise for your gifts without-
Wasting your precious time
---
What are your solutions?
---
Our Gift Experience Masters (GEM) bring your unique gifts to life. A GEM is personally assigned to each Love Treasures Basket to design- Unique personalized gifts: Your GEM creates and curates elegant, sweet, and interesting gifts for your Love Treasures basket. Impressive business gifts: Your GEM equips you to advance your business relationship building with branded & personalized gifts. Automatic Gifting: Upgrade your Love Treasures basket with a monthly subscription so you can impress her with your thoughtfulness, and stop scrambling for last-minute generic gifts. Last-minute Gifts: Orders placed with less than seven (7) days notice still require a minimum of 24 hours. Seasonal Exclusives: We love to celebrate at Love Treasures. We offer special limited-time gifts for holidays. Gift Guidance: If you are still looking for ideas, or don't see what you're looking for on our website- access our personal gift guidance here.
---
What are the payment options?
---
We accept major debit and credit cards. Cash is accepted for local orders only with advanced notice. No cashapp. If you want to request paying by invoice, let us know by emailing Givelovetreasures@gmail.com or fill out the contact form. All orders must be paid in full before gift creation begins. Subscription plans are auto-renewed unless cancelled by the client or owner.
---
What is your return policy?
---
Because every gift is custom-made to order specifically for the recipient, all sales are final. We strongly recommend you take advantage of our personal service of asking the recipient the questions- so your gift is customized based on their personal preferences. This almost guarantees they will LOVE it! If you have questions about your order, please contact us.
---
Do you offer gift cards?
---
No.
---
What about gifts for men?
---
Although women are our focus, we can design Love Treasures Baskets for men. Order as usual in our gift shop.
---
Can I tell you what I want in my Love Treasures basket?
---
We have a place for comments built into our order form so you are able to share your thoughts. Ultimately, we will choose the gifts.
---
Can I give you my own items and you package them for me?
---
We do not offer this service.
---
Do you deliver?
---
Yes! We deliver within 15 miles of Charlotte, NC 28208 for $15 delivery fee.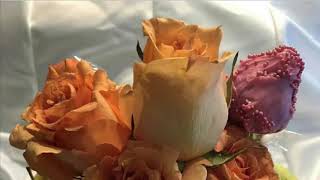 ---
---